Conway's Law
Conway's Law kaže da organizacije dizajniraju sustave prema strukturi timova. Konkretnije, prema postojećoj komunikacijskoj strukturi timova. Pojam je definirao Melwin Conway 1967 godine [1]. Praktičnije definirano: organizacije grade arhitekturu softverskog rješenja bazirano na postojećim kompetencijama te hijerarhijskoj i komunikacijskoj strukturi.
Rezultat je "ukalupljivanje" tehničkog rješenja organizacijskim ograničenjima. Dodatno, tehnička struktura rješenja interakcijski je ograničena zbog organizacijskih komunikacijskih restrikcija. U konačnici: tehničko rješenja "fita" organizaciji umjesto zahtjevima korisnika i tržišta.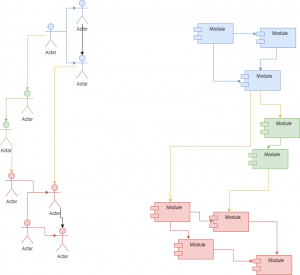 Da li je to nužno loše? Ovisi koga pitate. Prema nekima to je apsolutno poželjno. Drugi kažu sasvim suprotno. Treći kažu da je to kompromis između želja i stvarnosti, generalno nepoželjno ali potrebno zbog ograničenja ljudskih kapaciteta [2].
Kako god gledali na taj fenomen, brojna istraživanja potvrđuju hipotezu Conway's Law [3, 4, 5].
Inverse Conway Maneuver
Posljednjih godina sve češće se upotrebljava pojam "Inverse Conway Maneuver". Prevedeno na hrvatski – inverzni Conway manevar. Kao da je ispao iz neke vojne literature o borbenoj taktici i manevrima. Inverse Conway Maneuver kaže da prvo definiramo arhitekturu željenog rješenja te interakciju tog rješenja s ostatkom ekosustava pri tome ignorirajući trenutnu organizacijsku strukturu (organigram). Na temelju tog znanja tek tada gradimo timove koji mogu podržati izradu željene arhitekture. Detaljnije je moguće pročitati u [6] i [7].
Sada kad znate za Conway's Law, što dalje? U biti imate tri mogućnosti:
praviti se da taj fenomen nije stvaran (to-se-ne-događa-meni-već-susjedu)
svjesno prihvatiti ograničenja i prednosti tog fenomena – pronaći način kako ga iskoristiti u svoju korist
odigrati Inverse Conway Maneuver:

za sva postojeća rješenja neće biti lako. Zahtijevat će jako puno truda da se monoliti "razbiju" na logičke cjeline (fracture planes) – vidi za detalje [7]
za sve novo – svjesno prvo gradite željenu arhitekturu rješenja (target condition [8]) te potom gradite timove i interakcije timova prema definiranom ciljanom stanju

sve navedeno – rekao sam tri, od kuda sad ovo. Realno, ovo nije realno…
Za one koji žele znati više
1. Mel Conway hompage, http://www.melconway.com/Home/Conways_Law.html
2. The Visible Hand: The Managerial Revolution in American Business, ALFRED D. CHANDLER, 1977, Harvard University Press, Belknap Press, https://www.jstor.org/stable/j.ctvjghwrj
3. Usability issues in website design, Nigel Bevan, 1999, https://experiencelab.typepad.com/files/usability-issues-in-website-design-1.pdf
4. MacCormack, Alan, Carliss Baldwin, and John Rusnak. 2012. "Exploring the Duality Between
Product and Organizational Architectures: A Test of the 'mirroring' Hypothesis." Research Policy
41 (8) (October): 1309–1324. doi:10.1016/j.respol.2012.04.011., https://dash.harvard.edu/bitstream/handle/1/34403525/maccormack%2Cbaldwin%2Crusnak_exploring-the-duality.pdf
5. The influence of organizational structure on software quality: an empirical case study, Nachiappan Nagappan, Brendan Murphy , Victor Basili, ICSE '08: Proceedings of the 30th international conference on Software engineering, May 2008, Pages 521–530, https://dl.acm.org/doi/10.1145/1368088.1368160
6. Contending with Creaky Platforms CIO, Matthew Simons, Jonny Leroy, Cutter IT, November 30, 2010 https://www.cutter.com/article/contending-creaky-platforms-cio-416286
7. Team Topologies: Organizing Business and Technology Teams for Fast Flow, Matthew Skelton, Manuel Pais, It Revolution Press, 2019, https://itrevolution.com/product/team-topologies/
8. Toyota Kata: Managing People for Improvement, Adaptiveness and Superior Results, Mike Rother, McGraw-Hill Companies, 2009, https://www.mheducation.co.uk/toyota-kata-managing-people-for-improvement-adaptiveness-and-superior-results-9780071635233-emea